October 17th, 2020 marks the beginning of 9 day festival worshiping the different forms of the Shakti culminating in Dussherra or VijayaDashami. Navratri starts on the first day (first tithi, pratipada) after the new moon in sidereal Virgo, in the month of Ashvin. Through the 9 days, the evolving forms of Goddess are worshiped, namely, Shailputri (day 1), Bramacharini (day 2), Chandraghanta (day 3), Khushmanda (day 4), Skandmata (day 5), Katyayani (day 6), Kalaratri (day 7), MahaGauri (day 8), & Siddhidhatri (day 9). The Goddess is first worshiped as Shailputri (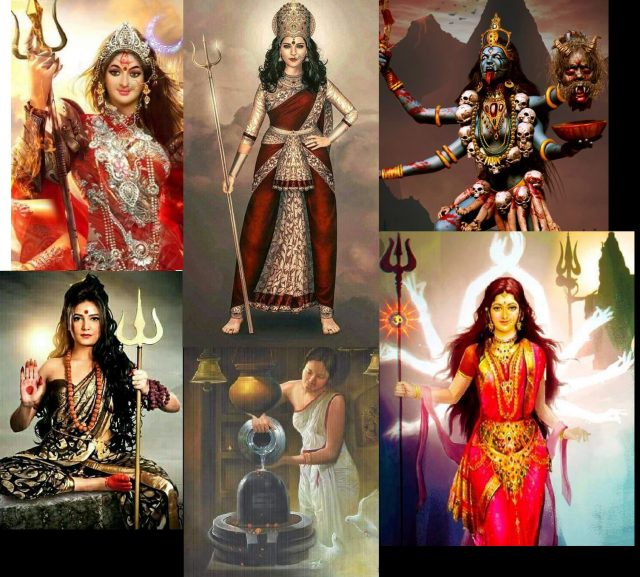 Parvati), the daughter of the mountain king, then as Bramacharini, who practiced austerity to marry Shiva. She then takes the form of Chandraghanta, the desirable one that Shiva falls in love with & marries. Her fertility is celebrated as Khushmanda where she represents Earth as an abundant & fertile planet. She is celebrated as the mother of Skanda (Subramanya), Skandamata. She is worshipped as the fierce transformative force (Katyayani & Kalaratri), as the all empowered, resplendent woman (MahaGauri), & finally as the one who has attained & who bestows the highest wisdom (Siddhidhatri). As the fetus evolves in the womb for nine months, so are the evolving forms of Durga from maiden, mother, to all empowering feminine, worshiped through the nine days
.
In North-East India, Durga is the main Goddess of worship with days 6-9 (Shasti, Saptami, Ashtami & Navami) dedicated to her worship. In Southern India, Durga (courage) is celebrated on the first three days, Laxmi (abundance) is celebrated next three days & Saraswati (wisdom) is celebrated on last three days. South Indians place books at the altar & read them on Vijayadashmi to symbolize the victory of wisdom over ignorance. Students of art, especially music & dance, practice with their teachers on VijayaDashami to connect with Sarawati. In West India, a big celebration takes place in the form of Raas Garba. Communities of people dance together in a circular formation symbolizing the non-hierarchical nature of the feminine that dances on the rhythms of life
.
Shakti is all pervasive, taking various physical forms of the mountains, rivers, ocean, the five elements, body, animals, plants & others – yet she remains formless. She is takes tangible forms yet her essence lies in the intangible. With you as the observer, Shakti becomes the object that is being witnessed. Observe the nature as innocent seedling germinating, becoming full-fledged creation then evolving into its destructive forces and finally settling into its magnificence. 2000 yr old Sequoia tree & a 200 yr old Bowhead Whale inspire awe because they exemplify the tangible & intangible manifestation of Shakti
.
Vijayadashmi also celebrates victory of Ram over Ravana in Lanka & Durga slaying the buffalo demon, Mahishasura. That's why she is adorned as Mahishasura Mardini – the buffalo demon representing our egoistical ignorance
.
Oct 16th New Moon in Chitra nakshatra ruled by Vishwakarma, the divine architect, supports us to build sustainable structures to allow growth. Start laying a solid foundation of the life you envision. This new moon is mutually aspected by Mars in Pisces. Since the moon is dark, it absorbs the vitality of Mars to architect the new vision. Together as a global society, we are undergoing immense change which may also be apparent at a personal level. What is required from each one of us is a high level of maturity in walking our paths with absolute authenticity like Maha Durga; instead of fighting for worldly power, reclaim the inner power & stay steady on our paths; fight for justice in a non-violent way; have a high personal standard of existence in the world; exercise great judgment & discretion; & be an active & not passive participant of life & the world
.
For consultation visit ‪cosmicartandscience.com or write to malini@cosmicartandscience.com
#Durga #Laxmi #Saraswati #cosmicartandscience #astronomy #astrology #vedicastrology #jyotish #metaphysics #garba #dandiya #kundalini #courage #strength #wisdom #abundance #divinefeminine #feminine #VjayaDashami #Navratri #Dusshera #Ram #Ravana #Parvati #Shakti #Gauri