The third & final Mercury retrograde (MeR) of 2020 is happening in sidereal Libra as I write this. So, let's burst some myths about MeR
.
The 'apparent' retrograde motion of Mercury is astronomical created by an optical illusion when observed from Earth. Einstein's theory on special relativity explains this. I broke this down in a previous post
.
MeR doesn't mean everything is doomed. I try not to draw too much attention to MeR because it already gets a bad rep in the new age circle. In fact, MeR in Libra is not bad at all since Venus (ruler of Libra) & Mercury have complementing energies. Libra being a masculine Air sign supports Mercury in general. Libra is the marketplace of the zodiac where we all are learning to compromise so that everyone's desires or needs in a relationship is met. Mercury rules the intellect. With Mercury in Libra, there is a tendency to employ the intellect to navigate relationships, hoping that the combination of heart & intellect leads to higher wisdom. More often than not, we default to the lower qualities of the intellect making relationships overly transactional, indulging in mind games. Some may even use this energy to mentally navigate through relationship problems without doing the actual work. How many times have we fought the person in our thoughts but never actually confronted the problem?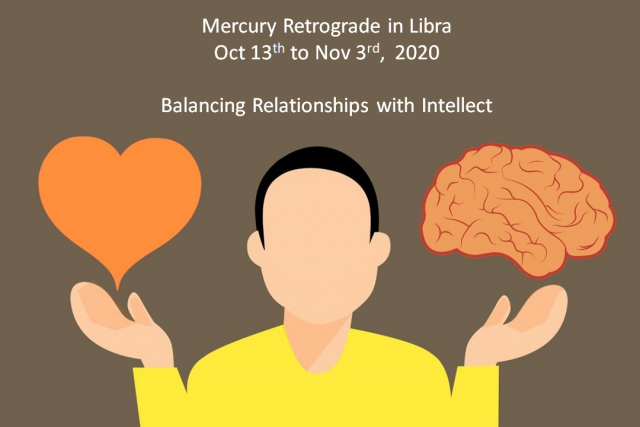 MeR in Libra is a good time to revisit what we have agreed to in a compromising relationship. It is time to dig within, let go of the heaviness & bring out the playfulness in our relating. Seeking counseling or therapy to heal your intimate relationships is also supported. This MeR is getting the 8th aspect of retrograde Mars from Pisces & 10th aspect from Saturn in Capricorn – which builds internal frustration & pressure when the Libra balance is tipped in one direction when it comes to giving & receiving. Mars & Saturn aspect will aid Mercury to severe any relationship or thought processes that doesn't serve us anymore. MeR is good for (consider other factors of muhurta) diving into writing projects, brainstorming ideas, editing, reviewing contracts, & combing through the details of daily life
.
Mercury also helps to figure out a way to make your imagination into reality. MeR will help you tap into your imagination, especially, as it pertains to relationships whether it is between people or objects in space, & bring it into reality. If you have abstract ideas, now is the time to put them on paper. Make a vision board & figure out a plan to bring it into reality. It is also a good time to learn to authentically voice yourself (not just get into battle of ideas) by figuring out what has led to suppression of your voice in the first place.
During this retrograde Mercury cycle to get a consultation visit ‪cosmicartandscience.com‬ or write to malini@cosmicartandscience.com
PC: citizenside.com
#retrograde #Mercuryretrograde #cosmicartandscience #astronomy #astrology #vedicastrology #jyotish #metaphysics